This is post contains links to sites that should not be opened around people under 18!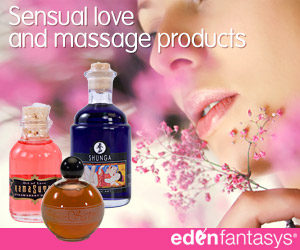 I know when you hear
edenfantasys
you might automatically think oh no toys aren't for me and neither is lingerie but I am hear to tell you about all the other awesome things edenfantasys has like massage oils, Soy candles, bees wax candles, games, music, books and alot more.
I love their candles and massage oils. I want to get the
Illume happiology candles in mint. I think they are absolutely gorgeous and the scents sounds heavenly for and candle lit bath or just relaxing. I love candles and absolutely cant get enough of them. I love that this one is
100% natural wax and blended with essential oils, this is a high quality, luxury candle. It contains soy, palm, and beeswax for a clean burn. The wicks are lead free (made from either cotton or paper), the packaging is recyclable, and the hand blown glass that holds the
candle is cute and reusable. This candle is on the top of my
edenfantasys
shopping list and my shopping list is quite long lol.
So if you have been nervous to check them out you should because they have a wide variety of stuff to choose from and everything is discreetly shipped to your door so no one will ever know if you don't want them too. So head over and check them out!
I received a gift card for this post and nothing else. All opinions are mine alone and were not swayed in any way by the compensation of the gift card!